I guess my name changed on Sunday.
I was a very good dog at the Rally trial and I finished my Rally Novice title. So now my name is "Toastin's Puddle Jumper, RN, CGC". You can still call me Splash. We took some photos while we were there. Jewel came too, and she got to see Nell, her mom. Nell told Jewel to behave.
PS: No, "RN" does
not
mean "Real Nuisance", it means "Rally Novice".
Here we are doing a left turn into the serpentine. Our judge, Mr. Eng (he's nice!) is in the foreground.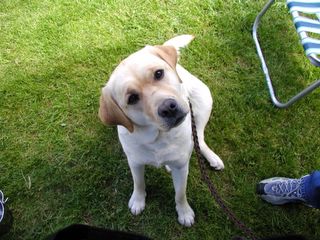 Jewel likes going to the dog show too!