Yeah whatever....can we go outside and play now?
It was 90 degrees today and we went outside for a while and worked in the garden. Mostly, I am supposed to help by not eating the plants.
Our back yard
This is the Peace rose, another plant that I am not allowed to eat.
Here I am chasing Jewel around the back yard, this is a very fun game!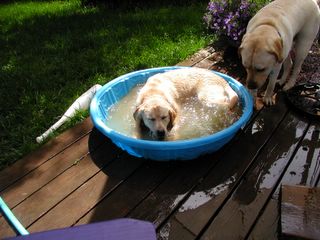 Jewel tends to monopolize the pool.
The water is almost the same color as Jewel is!